Design Portfolios to Inspire You!
➡ Where can I find good Ideas?
➡ Where to get Inspiration?
➡ Where can I ask a Question?
➡ Where can I hire Developers for my App Idea?
➡ Tips to make your own HOT Portfolio
Where to Find Website Developer
Upwork is a marketplace for freelancers. Highly recommended for web developers focusing on front-end development or otherwise.
Clutch List of Web Development Company with truthful Reviews.
Freelancer is a marketplace like TopTal for all types of freelance positions, including web designers, graphic designers, etc.
Fiverr is the largest freelance services marketplace.
Craigslist worldwide job-board to find graphic designers.
Web Developers, You Want to Work Within 2023
1. Sharon Yi
When you scroll through Sharon Yi's portfolio you immediately get a sense of her personality through the playful color palette and addition of emojis. Sharon is currently working at Indigo as a Front-End Developer and the projects section on her website showcases the interactive and creative web development work that she's capable of!
Coming from a background in design, I love creating pages where I'm able to actually create enjoyable interactions and experiences for everyone! And with Juno's education and support, I'm now able to truly call myself a Front-End Developer who is currently working at Indigo!
2. Hisami Kurita
Folio of Hisami Kurita 19/Aug.1996 (based in Tokyo and Kawasaki) frontend developer at LIG inc.
Where can I find a Portfolio Template to Showcase my Skills and Get a dream tech job?
More than 50 Fresh Templates for creative personal web development portfolios on Canva:
Or submit this form to get 10 Fresh Examples of Web Developer Portfolio:

3. Robin Mastromari
Website: Robin Mastromarino.com
Expert in: UI / UX Designer at HETIC
Type: Private. Location: Paris
4. Ian Lunn
Link – ianlunn.co.uk
Expert in: Producing HQ responsive websites and exceptional UX
Type: Private. Location: Devon, UK
5. Timmy O'Mahony
Check here – timmyomahony.com
What Timmy does: Full-Stack Web & Software Development
Type: Private. Location: Dublin, Ireland.
6. Pierre Nel
Website: pierre.io
Expert in: UX/UI Design, full-stack development
Type: Private. Location: London, UK
Star Trek Fan
7. Richard Hill
Portfolio link: Richard-hill.org.uk
About: creative freelance digital designer
Type: Private. Location: Leeds, UK
The daily rate is £450
8. Keita Yamada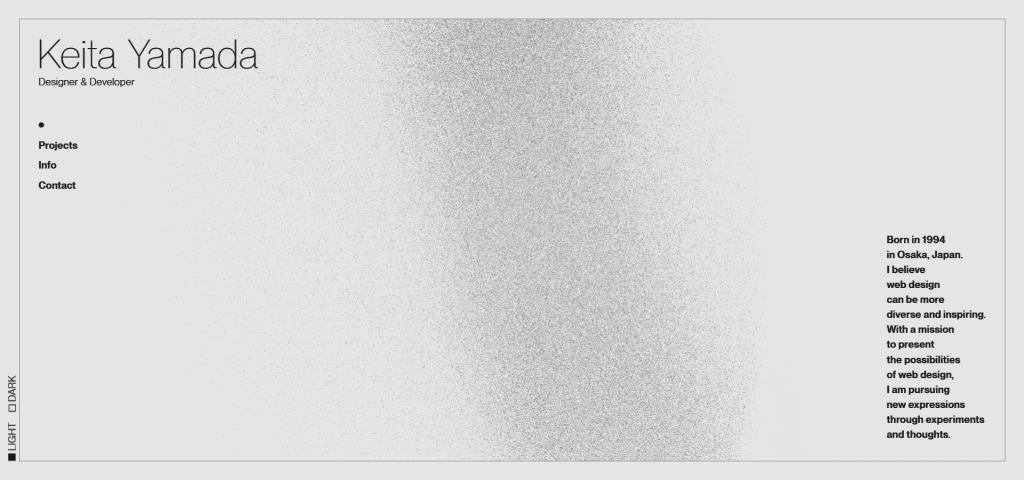 The professional portfolio of Keita Yamada, an accomplished designer and web developer, embodies clarity and brevity. Yamada's website is elegantly structured into three distinct segments — an introductory homepage featuring his biography, a specific page dedicated to his projects, and a straightforward contact page.
9. Daniel Fischer
Expert in: Pocket CTO for Project
Type: Private. Location: San Francisco, California
10. Kay Evans-Stocks
Kay Evans-Stocks is a creative developer and graphic designer that's passionate about building digital experiences that nurture community, inclusivity, and knowledge. For each project she's worked on, Kay's taken the time to put the spotlight on the organization she worked with, while highlighting the project goals. When you browse her portfolio you immediately get a feel for her creative design approach and the work that she's capable of!
I am a creative designer and developer, who aims to work with small businesses and marginalized communities to bring their passions to life. I offer both design and development services of web applications or websites!
Expert in: Design Engineer at Tucows
Type: Private.
Location: Toronto, Ontario, Canada
Bonus: WordPress Developers Portfolio:
* Emily Ridge
Expert in: custom WordPress developer and designer
Type: Private. Location: Salthill, Galway, Ireland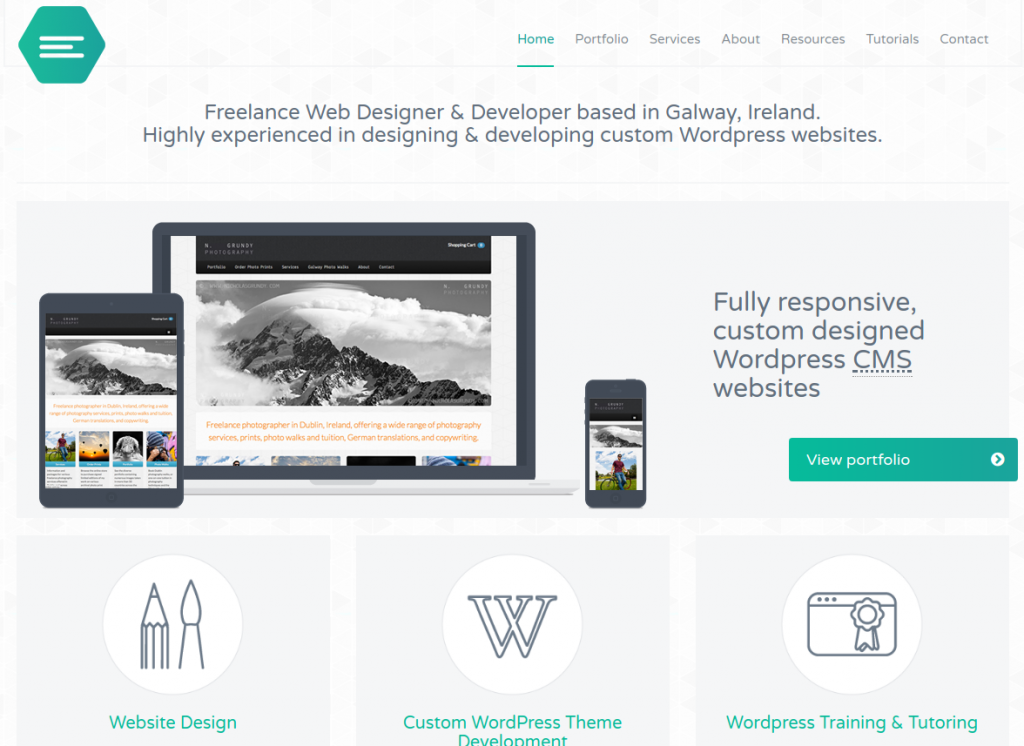 ---
Front End Developer's Portfolio:
* Jack Jeznach (Awwwords Winner)
Website: JacekJeznach.com
What he does: front-end and WordPress development
Mees Verberne
What he does: creative front-end development and design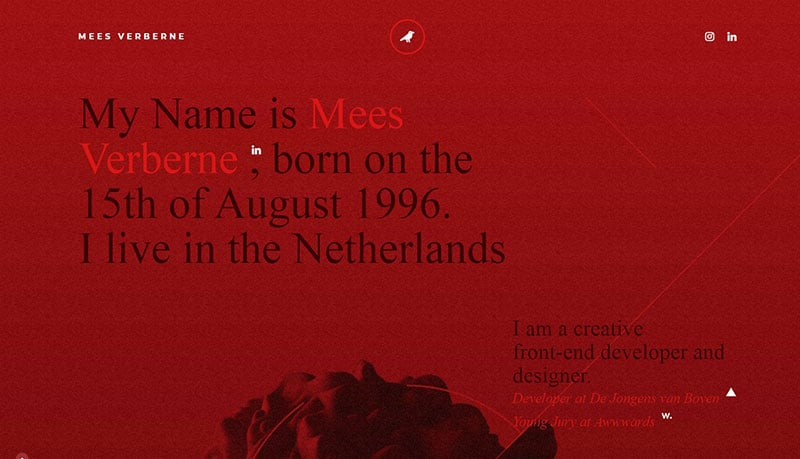 Describing himself as a highly-creative, front-end developer and designer, Mees Verberne makes use of glitching, to give the site some extra character. He also uses banded gradients that give the look of gentle lighting.
---
UI Developers Portfolio:
* Matt Farley
Expert in: UX/UI and front-end development
Type: Private. Location: Abbotsford, British Columbia.
* Adham Dannaway
What he does: UX/UI Designer & FB Developer — adhamdannaway.com
Disclaimer//
Really feel the inspiration for starting a career in the field of web development, only at your own risk. If you could not find inspiration from the portfolios above, pay attention to such resources.
Important Notice:
Please note that this post on Developers Portfolio was written by a third-party ghostwriter who is not affiliated with our company. We have written this post to provide useful insights and inspiration for web developers looking to create impressive portfolios. Our company has neither reviewed nor edited the content of this post, nor have we endorsed it.
Where to get Inspiration in web design?
This is the best place to get inspiration in web design. Check out all the coolest websites, and learn how to steal their styles and techniques.
Awwwards – Website Awards – Best Web Design Trends
https://www.awwwards.com
Awwwards are the Website Awards that recognize and promote the talent and effort of the best developers, designers and web agencies in the world.
Dribbble is a community of designers sharing screenshots of their work, process, and projects. It's an excellent place to see new designs, color schemes, typography, and other design elements.
Behance is Adobe's design-centric site where creatives can showcase and discover new work. From graphic design to fashion, to web design, it hosts a wide range of creative fields.